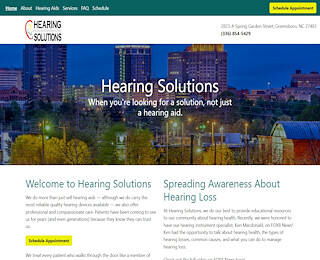 Obtain your Signia hearing aids in Greensboro NC from Hearing Solutions. Signia is an industry leader in quality, longevity, and ease of use according to the National Consumer Reporting Association. The company ranked second in the hearing aid survey.
Who is Signia?
Signia is the new name for Siemens in the industry. Savantos purchased Siemens Audiology Solutions in 2015. The former division was renamed to reflect their new ownership.
The manufacturer has since managed to rank second in the National Consumer Reporting Associations survey on hearing aid quality. Only Kirkland placed higher in the study which took into account cost and quality.
How long do Signia hearing aids last?
The average hearing aid has a life span of three to seven years. Signia brand rechargeable hearing aids last longer, up to eight years, and require changing the battery only once. While most devices last for up to 30 hours, the Signia Pure Charge&Go retains its charge for up to four days with the aid of a portable charger.
What are the advantages of choosing a Signia hearing aid?
Signia integrates seamlessly with modern technology.  Their groundbreaking myHearing App allows you to access your audiologist from anywhere with at least a wi-fi signal. Signia kept up as devices became smaller and now offers direct streaming of phone calls, music, and television to your hearing aid.
The company strives to sound as natural as possible by preserving a users voice. Their technology includes a multi-phase system geared towards providing as much detail as possible from the environment. Signia is the first manufacturer to offer a platform which outperforms the human ear in challenging hearing situations.
With the growing awareness of Tinnitus, Signia also provides a unique masking technology that is proven to help reduce ringing in the ears by training the nerves. The technology can reduce the effects of the condition without eliminating it.
Our audiologists can help you find the right Signia hearing aids in Greensboro NC.
Are Signia hearing aids invisible?
Comfort and size are significant considerations, especially for first-time customers. The Signia Silk line of hearing aid is practically invisible. Their soft silicone construction molds to the shape of your ear canal instead of being embedded deeply within the ear as is common with other small aids.
These devices can be as comfortable as a custom-fit alternative after picking the correct size. The Silk brand is small without compromising comfort or size.
How much do Signia hearing aids cost?
Signia hearing aids typically cost between $1000 and $2000. This is the typical price range for hearing and is an all-encompassing estimate including a manufacturer warranty, local fitting, local service packages, a 45-day risk-free satisfaction guarantee, and remote service and adjustments.
The device itself can be tuned to fit your needs at our Greensboro NC clinic and last for years. Only the batteries need to be replaced at a higher frequency unless your hearing deteriorates.
Hearing Solutions is a boutique firm specialized in providing custom solutions tailored to the customers need. Contact us today to schedule a hearing exam and pick up your Signia hearing aids in Greensboro NC.
Signia Hearing Aids Greensboro NC
Hearing Solutions
3368545429
2823-A Spring Garden Street, Greensboro, NC 27403
View Larger Map