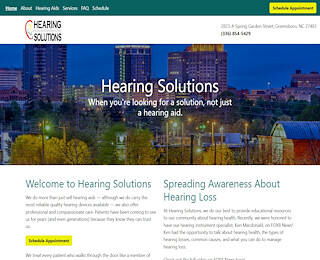 Rechargeable hearing aids are available from Hearing Solutions in Greensboro NC. This type of device is user-friendly, lasts all day, is capable of saving you money, and is environmentally friendly. 2018 was a particularly exciting year for rechargeable hearing aids as multiple new brands entered the market.  
Which brands of rechargeable hearing aids are available?  
The rise in modern devices means that rechargeable hearing aids are becoming increasingly popular. Still, this variant is relatively new with only one manufacturer providing them until 2018. Now, Phonak, Starkey, Resound, and Sivantos all offer solutions since with more manufacturers likely to follow suit.  
Manufacturers offer two types of reusable systems with a decent lifespan. These are the lithium-ion and silver-zync powered aids. Our team of highly motivated and experienced professionals at Hearing Solutions can help find the best fit for you.  
Will a rechargeable hearing aid last all day?  
Old nickel metal hybrid battery powered devices would often not last 24 hours. However, the batter revolution powers rechargeable solutions. Phonak's "Adeo B-R" lasts for 30 hours on a single charge. The power pack is similar to that of the old systems as well so users will have no problem getting accustomed to their device.  
What is the lifespan of a rechargeable hearing aid?  
Rechargeable hearing aids last between three and five years in addition to the added benefit of maintaining a long-lasting charge. Some brands are resilient. Resound offers a uniquely designed case storing several days of charge meaning that you can enjoy a long road trip without ever worrying about plugging in your device.  
How easy are rechargeable hearing aids to use?  
These aids are simple. There is no need to replace the battery every few days and charging is as simple as hooking the device to a wall outlet through a supplied charger. The rechargeable hearing aid is incredibly friendly for people with arthritis or Parkinson's disease.  Place the device in the charger before going to bed, and it will be ready for use in the morning.  
There are no packages to deal with and no tiny batteries. You will never have to go on a last-minute battery run so long as you stick to the regular maintenance and replacement schedule. With little waste, these devices are also good for the environment.  
Are Rechargeable Hearing Aids More Expensive?  
This type of hearing aid is cost-neutral and even capable of saving you money.  A user will purchase 520 batteries over the lifetime of a traditional listening device compared to eight for a typical lithium-ion hearing aid. The typical replacement cost for these batters is under $60 which is equivalent to carefully shopping for a one-year supply of their disposable counterparts online.  
Rechargeable Hearing Aids Greensboro NC  
Hearing Solutions is a customer-oriented firm with five dedicated team members providing high-quality audial solutions for over twenty years. Speak with an advisor today to find out more about purchasing rechargeable hearing aids in Greensboro NC.  
Rechargeable Hearing Aids Greensboro NC
Hearing Solutions
3368545429
2823-A Spring Garden Street, Greensboro, NC 27403
View Larger Map